Experience freedom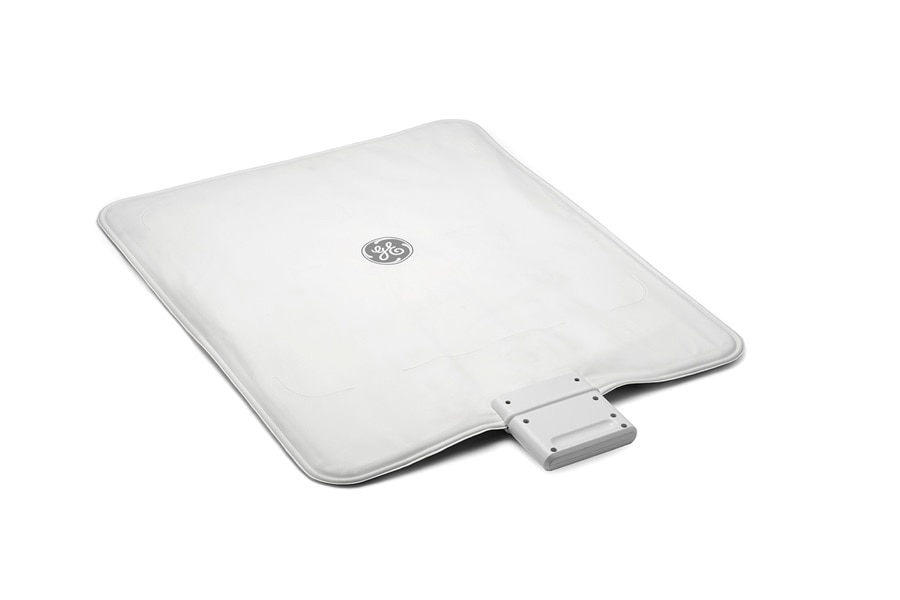 AIRx™: Intelligent MR slice prescription
Design
Every time we found ourselves starting to compromise, we started over
We set our sights on the highest attainable goal for coil design. Lightweight and ultra-flexible. It required a completely
new approach, but with so many possibilities for coil interference, it was easy to fall back into the trap of conventional designs.
Our product development team took a "never compromise" approach to stay focused when faced with a new challenge. And we
didn't stop until we got it right.

Dream

Innovate

Iterate

Prototype
AIR Technology™ Behind the Scenes Film
Technology
This simple loop breaks every mold
E-mode electronics Its small size is its biggest strength

Housed within this miniaturized module are some of the most advanced coil electronics ever developed. Our proprietary E-mode electronics reduce current noise, boost linearity and improve tolerance to varying coil loading conditions. It makes the most out of every centimeter to reduce component volume by more than 60 percent.

Conductor loop Flexibility that's way ahead of the curve

Sometimes the right material can be the linchpin to a breakthrough innovation. For AIR Technology™, it was the conductor material for the loop. Lightweight and bendable, this series of linked resonators replaces what used to be rigid circuit boards and lumped components. It's the flexible core of our form fitting coil design.
It turns out you can out-engineer conventional wisdom
Industry highest channel
count for AA coils

Improves parallel
acceleration*

Increases signal-to-noise
ratio and reduces
imaging artifacts*

Simple, more durable design*

Improves signal quality
by bringing the elements
closer to the patient*

Streamlines and optimizes scan setup with AIR Touch™
Comfort
Like being wrapped in a blanket
Form fitting for every form
Positioning
Welcome everyone with a faster, more comfortable experience
Clearly marked guides

Positioning an AIR Technology™ Coil is as easy as putting it on. Once you have it in position, just make sure the anatomy-of-interest falls within the outline on the surface of the coil and you're ready to image.

No snapping or locking

For most positions, the weight of the coil is enough to hold it in place. It conforms to your patient's body without the use of any snaps or latches to attach it to the table. Not only is it easier to position, it reduces the number of high-wear components that are prone to breaking over time. For difficult-to-image areas, the straps are readily available to help secure the coil in position.

Ultra-low profile

Each AIR Technology™ Coil is less than half of an inch thick when laid flat. Its low profile leaves more room inside the bore, which gives you more room for larger patients and makes it less claustrophobic for all patients.

Space-saving design

AIR Technology™ Coils are easy to store. Just fold them up and tuck them away in the coil cabinet. And their flexible design makes them cross-functional, so you can save even more space by reducing your total number of coils.
AIR Technology™ at ERASMUS MC, Rotterdam, NL – Overview

Listen to the testimonial of Erasmus Medical Center, Rotterdam, talking about their full experience with AIR Technology™.

AIR Technology™ at ERASMUS MC, Rotterdam, NL – Radiographers' perspective

Hear the testimonials from the radiographers at ERASMUS Medical Center in Rotterdam, using AIR Technology™ on the SIGNA™ Premier.

AIR Technology™ at ERASMUS MC, Rotterdam, NL – Radiologists' perspective

Hear the testimonials from the clinicians at ERASMUS Medical Center in Rotterdam, using AIR Technology™ on the SIGNA™ Premier.

GE Symposium at ECR 2019 – How MRI with AIR Technology™ brings comfort, speed and quality

View the full reply of Dr. Martinez presentation at ECR Symposium in Vienna, talking about his experience with AIR Technology™ .
Just holding these coils will inspire new ways to image
AIR Technology™ Setting Up For an Abdominal or Pelvic Exam

AIR Technology™ Setting Up For a Unilateral and Bilateral Hip Exam

AIR Technology™ Setting Up For a Knee Exam

AIR Technology™ Setting Up For a Long Bone Exam
Images
Get closer to what you need to see
Product Gallery Data

Product Gallery Data 1

Product Gallery Data 2

Product Gallery Data 3

Product Gallery Data 4

Product Gallery Data 5

Product Gallery Data 6

Product Gallery Data 7

Product Gallery Data 8

Product Gallery Data 9
Future
We can't think of anything it can't do
*Compared to previous generations of conventional coil technology