Visualization: Universal Viewers for Medical Images
Workflow: Patient-Centric Approach
Configurable, patient-centric workflows that enable data to move with the patient on their care journey
Managing imaging services requires more than just a visualization application. This is where workflow solutions step in and help to streamline departmental and enterprise-wide radiology and cardiology productivity, administrative efficiency and patient care. Achieving optimum productivity hinges on organized IT resources.
From scheduling to protocoling, patient preparation to reporting and coding. By tracking metrics such as turnaround time and scanner utilization, facilities can better manage efficient use of equipment and resources.
Centricity Cardio Workflow
Experience the Power of One Cardiovascular Imaging, Physician Reporting, Workflow, and Analytics Solution
Bridge the gaps between different cardiovascular service lines and healthcare information systems with one unified solution for accessing and managing patient data, images, reports, and workflows.
Comprehensive workflows bring order to a complex care are
Centricity™ Cardio Workflow offers a comprehensive collection of tools for all data and information management in the cardiovascular department. It helps facilitate registry workflow, streamlines inventory management, automates billing, creates clinical reports, and runs clinical and administrative queries.
Centricity Cardio Workflow transforms the physician reporting experience that helps physicians spend less time at the computer and spend more time on what matters most…the patient.
Side-by-side reporting to help save clicks and easily view the report while you are documenting
Quick reports to help document typical results in just a few clicks
Visual indicators to help guide users to compliant documentation needed for billing and accreditation purposes
Collaboration: Medical Image Sharing Solutions

Share medical images and insight with providers inside and outside your network through cloud-based tools
In today's complex, collaborative, and cross-disciplinary clinical environments, basic image- sharing and collaboration tools simply can't keep up with your complex patient care requirements. With Centricity Imaging Collaboration Suite (CICS), you can step up to the Power of One comprehensive solution that leverages cloud technology to transform how you connect, collaborate, and share patient images.
Centricity Multi-Disciplinary Team Virtual Meeting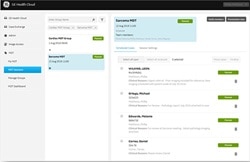 Centricity Multi-Disciplinary Team Virtual Meeting will provide meeting participants with centralized access to patient images and case data, facilitating cross-specialty planning and implementation of treatment programs for complex medical conditions.
Today, radiologists and pathologists spend 20% of their time preparing for meetings4. Specialists are in short supply in many regions of the world, requiring care teams to leverage resources across remote locations. The application will provide efficient MDT organization tools, easy-to-navigate case lists, screen sharing and VOIP - including connectivity to an organization's RIS or EMR, in order to realize time savings, improved efficiencies, and reduced costs associated with meeting preparation.
Centricity Case Exchange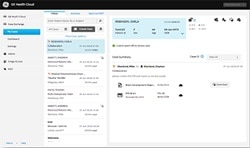 Centricity Case Exchange is designed to offer advanced clinician collaboration, seamless device connectivity, and embedded analytics tools - all with comprehensive end user controls and data management.
Centricity Case Exchange helps providers streamline clinical collaboration with unaffiliated clinicians to help reduce duplicate imaging, avoid unnecessary patient transfers, lower CD distribution costs and enhance referral relationships - all with no capital investment. It liberates affiliated and non-affiliated physicians from silos of care by fostering a clinical community where they can quickly confer on patient cases, simultaneously access patients' images and reports and collaborate on diagnosis and treatment plans.
It also offers a flexible business model that allows organizations to pay for this service based on their ongoing consumption. Simultaneously, it simplifies IT maintenance by reducing on-site infrastructure and offloading software updates, back-up operations and disaster recovery from internal staff, helping drive down capital expenses.
Centricity Case Exchange is built on the GE Health Cloud and leverages Predix™2, GE's software platform for the Industrial Internet, built to manage data of high volume, velocity, and variety, in the cloud, Predix enables enterprise grade scalability, performance, and security capabilities.
Archiving: Vendor Neutral Archive (VNA) Solutions
Centricity Solutions for Enterprise Imaging Brochure