Benefits
Digistat Patient Watch helps you turn patient data into action. It delivers the information that doctors and nurses need, clearly and intuitively.
Helping address alarm fatigue
Digistat Dashboard shows the alarm distribution statistics for a given time frame. A report can be generated to show metrics for a single patient or multiple patients. A unit-wide visual presentation enables staff members to make decisions that can increase efficiency, save time, and improve resource utilization. This helps you implement procedures to reduce the number of alarms and evaluate the effectiveness of their strategy.
Helping organize patient care
Near real-time information displayed on large screens and on mobile devices can enable users to be informed at a glance about the situation in the ward. Digistat Patient Watch also provides automated, accurate device data collection, mitigating the risk of errors from manual data transcription. This can help caregivers respond appropriately to changes in patients' condition and facilitate sound clinical decisions.
Supporting greater staff efficiency
An intuitive display, updated every few seconds, gives an overview of a single patient or multiple patients on one screen. Caregivers can quickly analyze aggregated data from multiple devices and make timely, proactive decisions.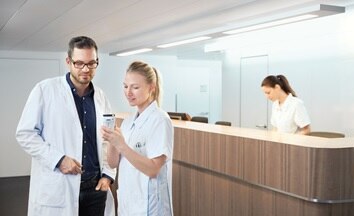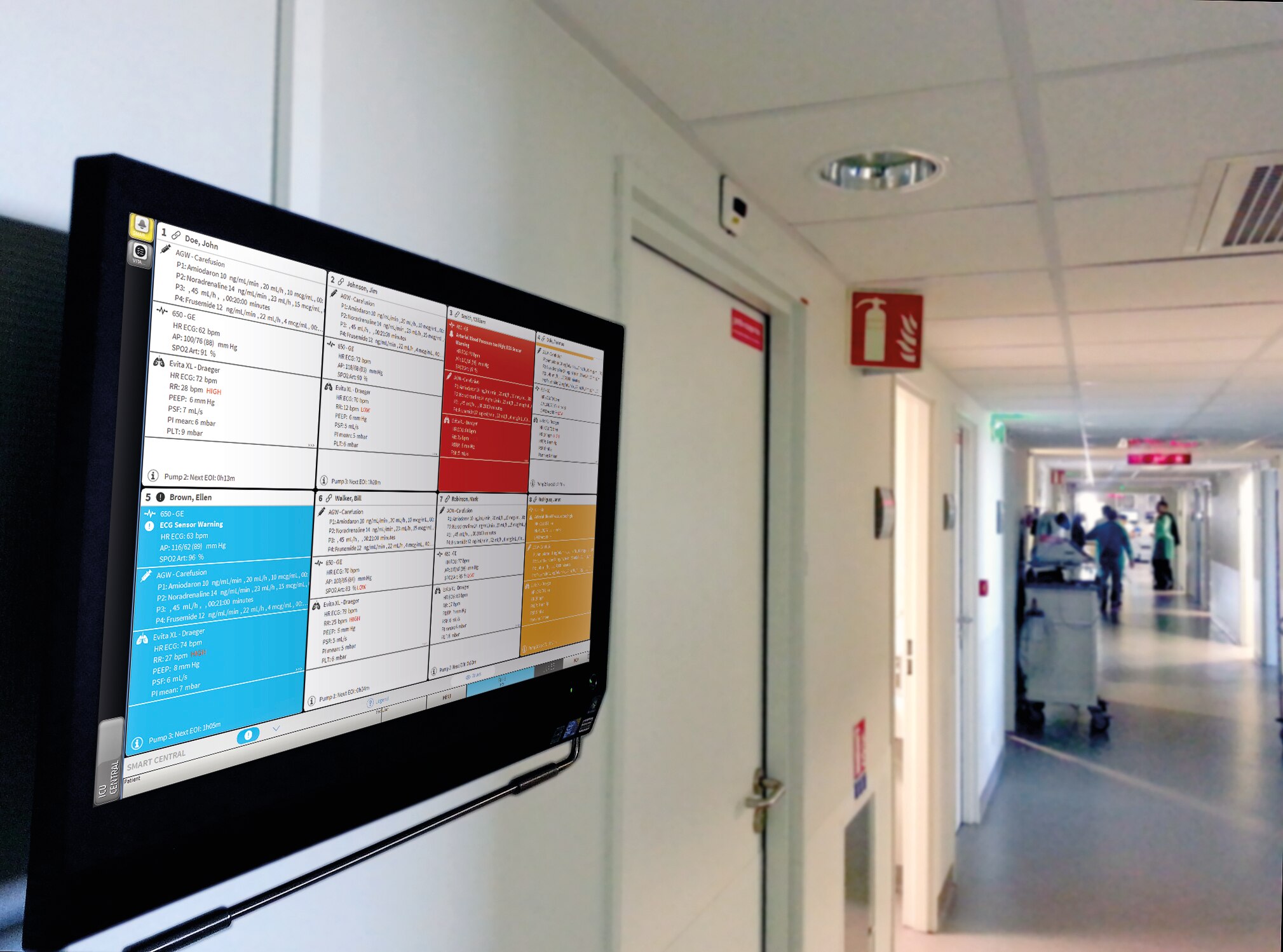 Technology
Digistat Patient Watch, an easy fit with hospital data infrastructure
• Records a wide spectrum of information - continuous and sporadic data, user-related and device events and alarms - using an advanced, distributed and scalable architecture with serial or networked connections.
• Device- and vendor-neutral, Digistat Patient Watch uses standard protocols such as HL7® to interface with patient data management, nurse call and communication, clinical decision support, clinical research and asset management systems, as well as electronic health records.
• Scales smoothly to handle large volumes of data and is readily compatible with existing IT systems.
• Interfaces with more than 200 devices from multiple vendors: from patient monitors and ventilators to infusion pumps and many others.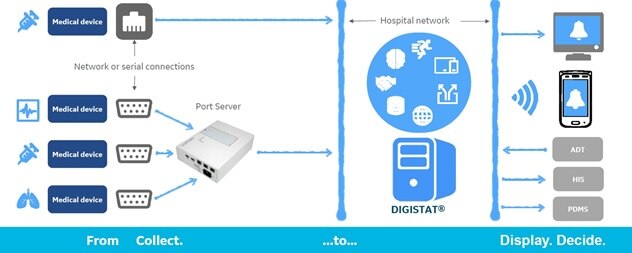 Services
A complete solution. Configured for you.
Digistat® Patient Watch comes to you from Ascom and a distribution partnership with GE Healthcare, companies with decades of experience and deep expertise in healthcare.
GE Healthcare provides transformational medical technologies and services that are shaping a new age of patient care and offers broad expertise in imaging, diagnostics, information technologies, patient monitoring and more. Ascom is a global provider of healthcare information communications technologies and workflow solutions, whose vision is to close digital information gaps and allow for the best possible clinical decisions, anytime and anywhere.
Together, GE and Ascom can size and adapt the Digistat Patient Watch system for your needs. A skilled professional team will help you evaluate the capabilities of your medical devices and choose the best solution, developing or adapting new drivers to support more devices as needed. We walk your team through every step of project, from consulting and planning to implementation and continuous training.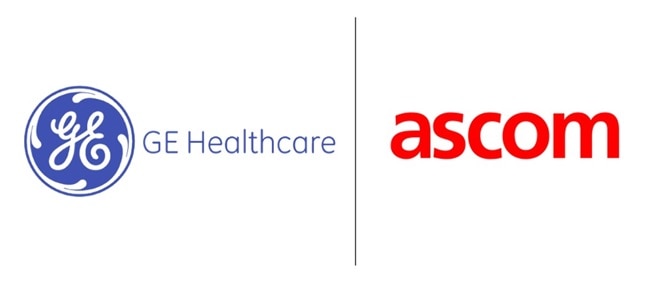 Digistat Patient Watch Video

How can Digistat Patient Watch improve patient care in the ICU?
Pierre Delzac, GE Healthcare

What The Beep?! Tackling Alarm Fatigue in Intensive Care Units

How new digital technologies can make intensive care units a more peaceful environment, improving patient care and clinical staff efficiency

Learn more