GE Healthcare är bronspartner inom EFCNI

European Foundation for the Care of Newborn Inpants (EFCNI) är den första europeiska organisation och nätverk som representerar prematura och nyfödda barns och deras familjers intressen. Den sammanför föräldrar, sjukvårdsexperter från olika discipliner och forskare med det gemensamma målet att förbättra hälsan på lång sikt för prematura och nyfödda barn. EFCNI:s vision är att säkerställa bästa möjliga start i livet för alla barn.

Learn more

Värmereglering

Utvärdera värmeregleringskapaciteten för hybridkuvöser för nyfödda baserat på teknik, testning och dokumenterad användning.

Det här faktabladet innehåller flera viktiga påståenden och ytterligare information om klinisk forskning:

Giraffe OmniBed ger termisk och fysiologisk stabilitet och kan användas som en sluten- öppen samt transportkuvös (inom sjukhuset)3. Klinisk forskning har visat minst 15 % förbättrat resultat (till exempel för kroppstemperatur4, tillväxt, viktstabilisering) och erbjuder 0,49 grader högre temperatur för barnet under transport inom sjukhuset (Giraffe OmniBed utan ström)5

3 -M. Gaylord, L. Mefford, J. Stafano, K. Leef, L. Lynam. "An Evaluation of a New Device in Maintaining Thermal and Physiological Homeostasis in Human Newborns." NANN, 2001
2. 4-Kim SM et al. Förbättrade vård- och tillväxtresultat tack vare användning av hybridkuvöser med luftfuktare hos för tidigt födda spädbarn. Pediatrics 125(1), 137-145, 2010 5- F. Loersch, M Schindler, K. Starr of GE Healthcare, J. Moore, L Lynam Bayne. "Risk Factors for intra-hospital transport of newborn patients: A new solution to an old problem." Journal of Neonatal Nursing (2011) 17, 203-214

Värmeskydd

Temperaturkontroll för prematurt spädbarn

Sammanfattning: Var är vi nu och vart ska vi

Robin B. Dail, PhD, RN, FAAN Associate Dean för Faculty Affairs och professor, University of South Carolina, College of Nursing

I det här dokumentet beskrivs värmefysiologi för prematura barn, mekanismer för värmeförlust och en genomgång av hur vi kontrollerar det prematura spädbarnets termiska miljö.

Detta är ett utmärkt utbildningsdokument som tar upp centrala begrepp för att ge läkaren vägledning vad gäller faktorer som måste tas i beaktande vid hantering av värmebehov för enskilda patienter.
Video med kundberättelser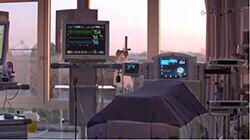 Giraffe-kuvösvårdstation, GE Healthcare – HUG Genève, Schweiz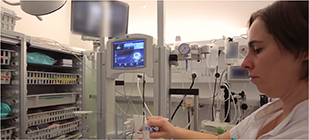 Giraffe-kuvösvårdstation, GE Healthcare – UZ Brussel Hospital, Belgien