By Charles Parisot, Interoperability Architect, GE Healthcare, Chair of the IHE Services Committee
It's time to inject some positivity back into interoperability. Often, it has been perceived as complex, messy and a source of frustration for CIOs. But the smooth exchange of health information is a must and a critical business priority for healthcare organisations. Now is the moment to seize a fresh and strategic rethink and work towards change.
How? Well, let's start the optimism reboot with a look back over the years of positive progress. Firstly, DICOM, the international standard for Digital Imaging and Communications in Medicine, has been hugely successful in enabling the integration of multi-vendor medical imaging devices and picture archiving and communication systems (PACS). This has enabled the sharing of case images inside an organisation or across a region to benefit the diagnostic health outcome of millions of patients. Secondly, hospital health records have also benefitted from a wide adoption of HL7 (Health Level-7) Version 2 helping to ensure that multiple vendor systems can communicate with each other, but still with significant customization. Finally, IHE Profiles and HL7 CDA have made a major contribution to enable clinical information sharing to present the complete picture, as demonstrated by several regional and national eHealth deployments in Europe and in the USA.
Optimal patient care is about interoperability and team work
Even though this all sounds pretty technical, interoperability is vital to the commercial success and reputation management of healthcare establishments. The efficient exchange of patient information isn't about an IT department buying as many solutions from the same vendor as they can, it is about various systems communicating smoothly with each other toavoid missed opportunities in the patient care continuum. To be ready for the advantages of emerging health technologies such as Artificial Intelligence (AI), healthcare also needs the solid interoperability foundations in place for future developments.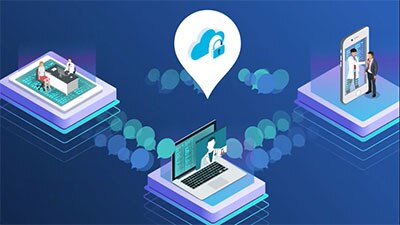 Deploying technologies using common standards technology is therefore a widely discussed across healthcare institutions, industry and increasingly policy makers. It needs to be inclusive of all stakeholders: management teams, clinicals, IT departments, vendors and health authorities.
How to achieve positive outcomes in 3 steps:
Be prepared not to find the single 'magic standard' – it has been long-awaited but doesn't exist yet - but do think strategically. Perhaps consider introducing an 'Interoperability Officer' to bridge the gap between information management and IT to define the interoperability strategy, identify the critical need areas and steer with consistency the actions towards the desired goal over time.
Start by defining the problem you want to solve. Is it closing the gaps in patient information at the point of care so that clinicians have a full picture allowing an accurate diagnosis or treatment plan? It must surely be about realising the 97% of clinical data1 that currently goes unused in the healthcare environment. And perhaps it should be about demonstrating compliance and testing when selecting products aligned with the standards and profiles of your interoperability strategy.
Embrace the challenge now, unlock your data and strategically strive to implement measures for a better and more efficient care of patients. Healthcare providers are not alone in working towards the interoperability holy grail. There are plenty of peers and industry support networks available. You just need to think bigger and use the big data better. It's what your patients demand.
Smart Connected Solutions

Want to start be more strategic about interoperability?
GE Healthcare solutions, featuring Intel® technology, deliver the performance, reliability and security that brings providers, patients and intelligent insight together at the point of care, to help achieve faster time to discovery and enable better outcomes.
1 Source: IDC Digital Universe Study